Contact Us
«Faedra Beach has a long tradition of emphasizing cleanliness in our care of guest rooms and in the public spaces of our hotel"
Faedra Beach in Ammoudara is the perfect spot if you want to have a relaxed time, close to the beach, very quiet but still a great base to visit the nearby tourist destinations.
The beach is only 3km from Agios Nikolaos, which makes it great for a late afternoon followed by dinner there
You are also close to Chrissi island and Vai palm forest beach, two of the best beaches in Greece (they can be visited with a tour or own vehicle)
And if you are after an active day you can always take a detour at the Richty Gorge, around 1 hour away.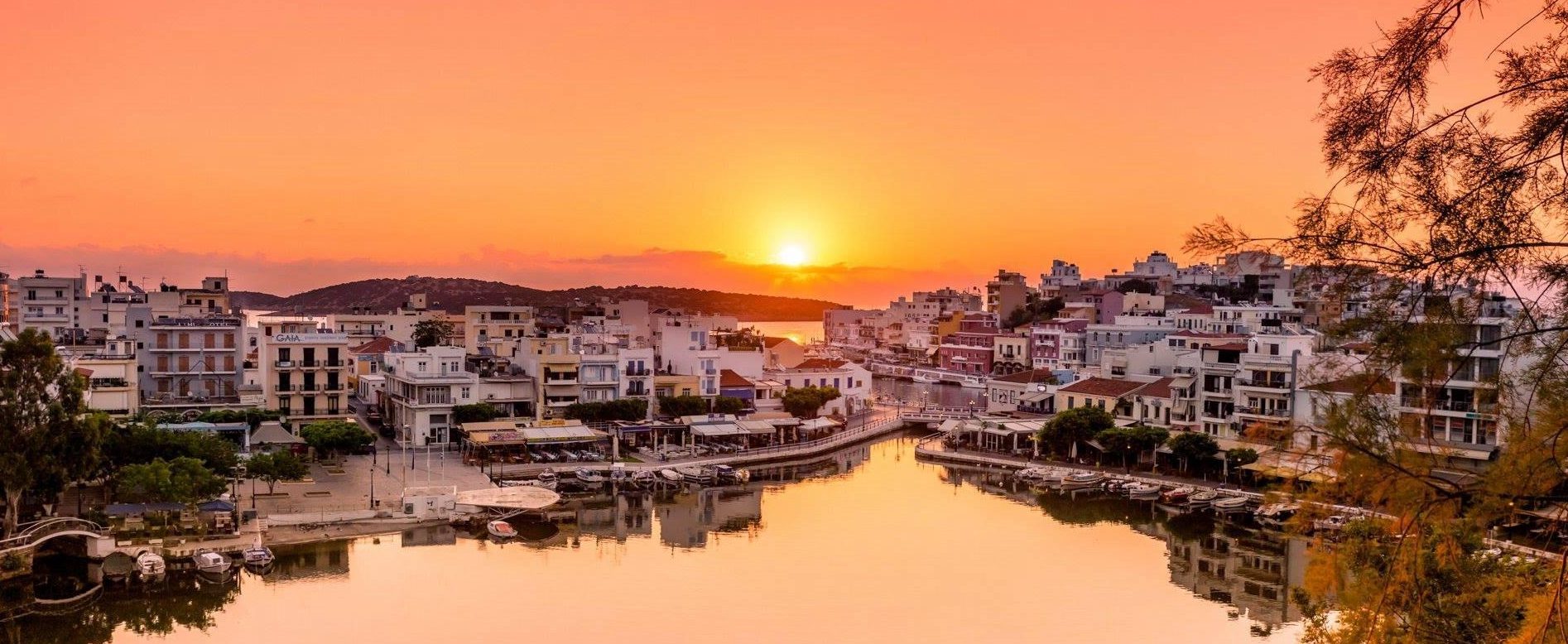 Agios Nikolaos (pronounced Eye- os Nikol -owse, NOT Ag.Nik!) is a cosmopolitan resort which caters to many nationalities and the days of bar culture and night clubs were left behind 10 years ago, despite what you may read in other reviews.
This is a lovely town on the water with a natural inlet, that creates a small lake, and a small square where Greek performances are usually organised in the nights, mostly during the high season.
There is a nice family vibe with plenty of grown-up kids around.
The bus station is a long walk from the town centre. I would suggest a taxi for the last leg to the hotel, especially if you are travelling with kids.
It's a great town to have your dinner and go for a walk along the 2 pedestrian streets interconnected by another square.
There are two small beaches, the first one called Kitroplateia Beach, right in the heart of Agios Nikolaos, and Ammos Beach on the southern side of town.
They are both nice enough to spend the whole day swimming and playing with the sand.
If staying for a week or more, I would probably suggest to rent a car and explore the surrounding.
This should include a visit to the Fortress Spinalonga, a small island with a long history, as a Venetian fortress, a refuge for the rebels and, more recently, a place of exile for lepers.
It is now one of the major attractions of Crete.
If driving the own car, head to the town of Plaka and catch a local boat there. They run quite frequently, very easy and inexpensive.
Alternatively, if you prefer an all organised local excursion ask our reception, there are a few around.
The Faedra Beach is a superb Resort to stay when travelling with children.
The architecture of the units is very comfortable and the location is both quiet and close to the main happening areas.
The local beach is very clean and nice, with organised spots usually connected to either a cafe or a restaurant
Accommodations in this part of Crete tend also to be cheaper than the average, which is great if you are travelling on a budget.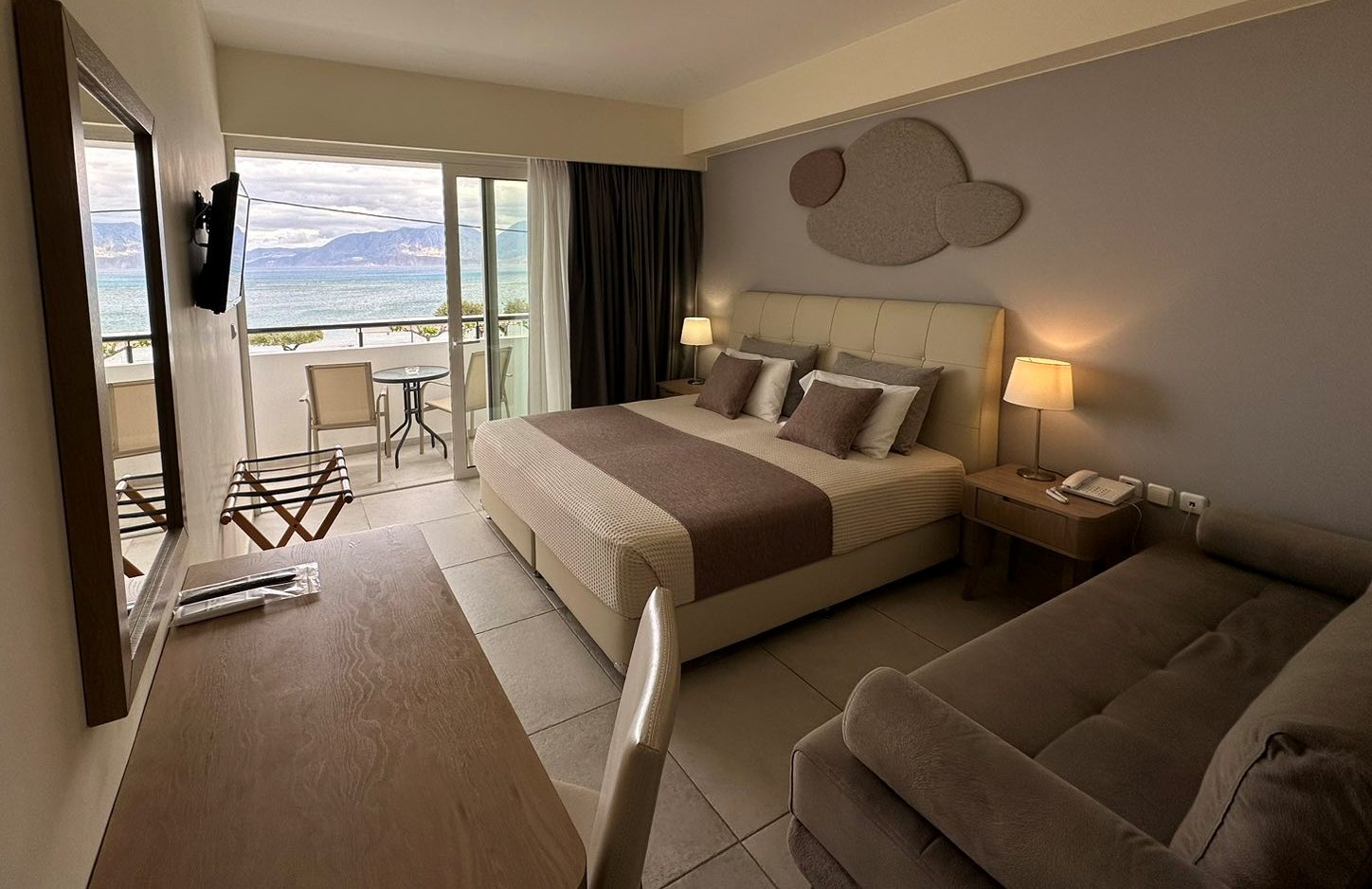 Faedra Beach is an amazing value place with balcony and access to a pool
The studios are self-contained and spacious.
Read about cleaning changes in the coming months
Who will come back to Crete this summer ?
Skip the store with our Virtual assistants!
Call our On-demand assistance for anything that arises.
Every Faedra Beach section has a community team, with community managers who act as concierges. Whether it's supplying you with toiletries in a time of need, or offering restaurant menu suggestions, a community manager is there to help.
You can also end your love with a gift voucher!
Just purchase our low cost vouchers online, by visiting our banks secure site.
Our vouchers have no expiration date and can be used at any time and with every experience service we offer, be it a takeaway, a deli purchase or a sit-down meal once we are open.
Relax at a scenery beachfront Resort, participate in a variety of family friendly activities and dine on delicious cuisine on this beach getaway.
Relax like a local on this memorable beloved taverna in Ammoudara near Agios Nikolaos, Lasithi
For any further information, Chat with us on Facebook…
email:faedrabeach@yahoo.com
AMMOUDARA,AGIOS NIKOLAOS,LASITHI
721 00 CRETE
Tel (+30) 2841023956
Fax (+30) 2841028614